Wasatch Front Regional Council has several regional roles and each role has a corresponding jurisdictional area shown and described below.
Association of Governments
WFRC is one of Utah's seven Association of Governments (AOGs) established through interlocal agreements (under UCA 11 §13) that together, fully cover Utah. As an AOG, WFRC represents all of Davis, Morgan, Salt Lake, Tooele and Weber counties.
The Wasatch Front Economic Development District (WFEDD) is a regional economic development organization whose jurisdiction matches that of the WFRC AOG. WFRC also administers the Small Cities Community Development Block Grant (CDBG) program for cities with a population of 50,000 or less in Morgan, Tooele, and Weber counties.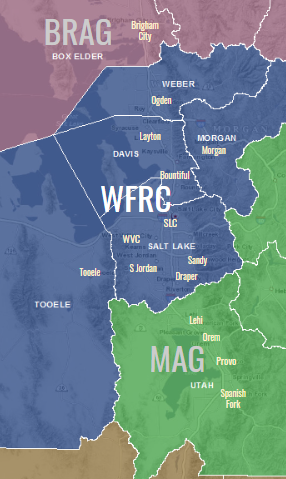 Metropolitan Planning Organization
WFRC serves as the Metropolitan Planning Organization (MPO) for the Salt Lake City – West Valley and the Ogden – Layton urbanized areas whose boundaries are set by the US Census Bureau. MPOs are federally mandated decision-making bodies — with representation from local elected officials and transportation agencies — to ensure regional cooperation in transportation planning and use of federal funds. In 2010, the southern portion of Box Elder County, from Brigham City south, was added to WFRC's MPO jurisdiction.
WFRC actively collaborates with Mountainland Association of Governments (MAG) which serves Summit, Utah, and Wasatch counties as an AOG, and the adjoining Provo-Orem urbanized area as an MPO. Utah's four MPOs — WFRC, MAG, Cache MPO (Logan urbanized area), and Dixie MPO (St. George urbanized area) — work together with UDOT, UTA, and other transit agencies to produce Utah's Unified Transportation Plan.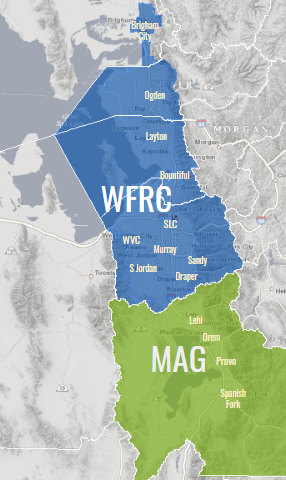 Rural Planning Organizations
WFRC convenes two Rural Planning Organizations to establish a formal process for the local jurisdictions outside of the urbanized area to coordinate transportation planning. The Tooele Valley RPO serves Tooele City, Grantsville and surrounding area, and the Morgan County – Ogden Valley RPO serves all of Morgan county and the eastern half of Weber County.