The Wasatch Choice Partners announce new resources to assist local governments in updating general plans and ordinances as we all address two significant challenges: Utah's ongoing growth and the coronavirus recovery.  Utah has been the fastest growing state over the last 10 years and growth hasn't slowed during COVID-19.  Meanwhile, the Coronavirus is affecting communities in significant ways including fiscal implications as well as short and potential long-term changes to the way people live, work, play and travel within communities and the region. 
Wasatch Choice Regional Vision:  As communities update their plans, they can explore implementation of the recently completed Wasatch Choice Regional Vision, which focuses on coordinating the planning and location of land use, housing, transportation, economic development, and open space to achieve the best outcomes.  The vision also relates to Senate Bill 34 from 2019, which changed general plan requirements.  That bill seeks to address housing affordability and also requires communities to dovetail their land use with local and regional transportation planning.
The two challenges of growth and COVID-19 impel communities to consider updates to planning.  As communities move forward, the following resources can help:
Developed as a resource to help leaders and staff develop and implement plans and policies that benefit from broad stakeholder ownership.
The guide contains resources organized around three main topics:
Public Engagement: Process and tips for planning and executing effective dialogue and engagement with public groups.

One-on-One Engagement: Tips and data to aid in having more effective conversations with individual members of the public on difficult topics.

Messaging: Ready messaging for use in describing our challenges, and, when applicable, the role of the shared Wasatch Choice Vision in meeting them.
Wasatch Choice Social Media Graphics (2021): preview | download as jpgs
examples: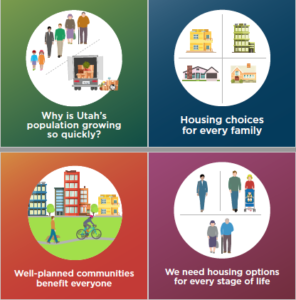 Technical Assistance Resources
There are many resources available to help assist local governments in planning.  A key challenge is just knowing what is available.  Partnering agencies across the state are compiled a one-stop list of these resources.
Access to Opportunities: how many valued destinations can you get to from each spot in your community. Or how many patrons or potential employees can reach each site in your community. This helps inform economic development site selection and locations for moderately priced housing.
General Future Land Use: summarizes the designated land uses in the general plans within the WFRC MPO planning boundary. While this map layer is not a substitute for the detailed local plans available directly from cities, it presents consistent land use types, ex. single-family residential, mixed use, and parks/sensitive lands, etc.

Open space: Wasatch Front Parks and Trails Map spotlights park space, family-friendly pathways, and the accessibility of these critical assets within a 10 minute walk.  This can help us understand our current strengths and where additional amenities may be needed as we grow.
Growth Projections: neighborhood level demographic and employment projections are prepared by Utah's four MPOs, together with UDOT for the state's non-urbanized areas to support the transportation planning process. They also support local planning to address anticipated growth.  For the Wasatch Front, a new 2050 projections viewer tab was added to the Wasatch Choice map.
Statewide Traffic Volume Map (Historic and Forecasted): The WFRC-hosted Traffic Volume Webmap allows anyone to access forecasted and observed data for all major roads in Utah.
Active Transportation GIS Data Resources: bike use has increased by nearly 100% during the pandemic, and our region is likely to see lasting gains in biking for commuting and for recreation. This data helps ongoing planning by offering:
Existing pathways and on-street bike infrastructure

Plans for new regional and local AT facilities

A future "build-out" view of the bicycle network

Bike and pedestrian demand indicators

Level of traffic stress and other Network Quality measures
We are dealing with twin challenges in Utah right now, the COVID-19 pandemic and the nation's leading growth. The pandemic has changed how we get around, how we work, go to school, shop, and gather in our communities. While our focus is rightly focused on the pandemic, growth pressures are still with us.
Utah is the fastest growing state in the nation and with beautiful scenery, a diverse economy, and an excellent quality of life, it's no wonder that we're attracting new residents.
Watch the Wasatch Choice Regional Vision Video